Welcome to the Draglist.com message board! We are here to have fun and talk about drag racing, music, and just about anything else... it's about having a good time with friends. Just a few common sense rules and regs.
But first, a note to all the suckers who believed the sales package you purchased that said you'd make thousands by spamming message boards to sell pharmacy items, gambling sites, or other stuff. You are not welcome here. We have the board set up so that I have to approve personally anyone who joins. I get about 50 attempted joins a day from folks whose primary reason for joining is to sell spam items to our members. These accounts are deleted immediately
AND the associated email addresses and websites are reported to spam reporting agencies
.
I have no problem with legitimate drag racing businesses or the legitimate businesses of true drag racing fans being included as a website link. If you have a question, feel free to drop me a line at
draglist@hotmail.com
.
Back to our REAL members and potential members: if you're new to Draglist.com, you may notice something right away. This is a FLAME FREE environment. I mean totally. Good natured ribbing is encouraged, but there will be no flame wars up here. I can't control the rest of the world, but right here in this small piece of it, it's my job to ensure that folks are free to have a good time without fear of getting slammed by mean, cynical, negative people. Censorship? Damn right. But I'm glad to say this hasn't been an issue thus far.
We also don't need to see any discussions on politics, race, or religion.
And please check Snopes.com before you post that piece that's supposed to get us all worked up. (You'll find a convenient link to Snopes.com under the Essential Utilities section at
http://www.edrags.com
). I have very strong opinions on politics and the other topics myself. If I don't use Draglist.com's ability to reach a million page views a year to push my views, then you can't either.
Now that that's out of the way, check out our various forums and jump right in. Have fun, but try not to stray too far off topic. I'm not going to be a fascist about this, but it's not polite to hijack a thread and derail it with idle chatter (and yes, I'm as guilty as anyone of participating in this). What I'm NOT going to do is move your post on a whim to one of 37 different forums. But if I feel that a thread is going too far off track, I'll prune it into its own thread, beginning with the first derailed post...
We accept posts for For Sale/Wanted items for free with no strings attached. I'm depending on everyone to post in an honest way, but Draglist.com assumes absolutely no responsibility for the accuracy or legitimacy of the information posted in those sections. Buyer beware. You can ask questions about the stuff posted, but I'm not going to tolerate post-sale arguments on the board. Once you sell your car/parts, let me know and I'll remove the post...
Check out the 'How to Upload Photos' post to show us your ride or other cool stuff. Please try to keep the width down to about 600 pixels for members with smaller monitors.
If you need further help, board member 'Maritime Drag Racing' has kindly offered to assist anyone who needs help posting links, photos, or signatures using UBBC codes. Just send a PM to Maritime Drag Racing or email
editor@maritimedragracing.com
. Here is a list of some of the most commonly used UBBC codes: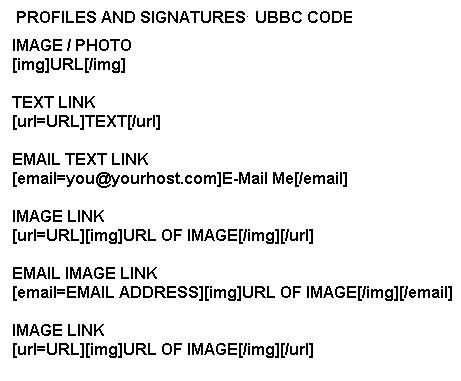 That's enough for now. Welcome to the board and have a great time up here! bp