Well howdy fellow Draglisters,....
I have secured and returned home with Flying Phil Elliotts former 69 Nova F/c Roller to take on and begin a new project, A Nitro Injected funny car,..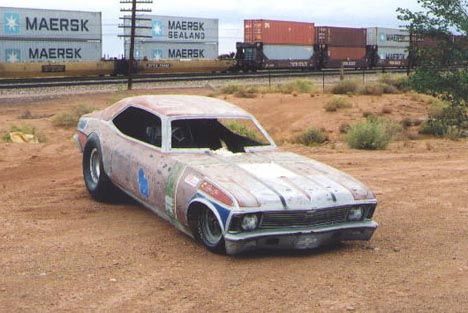 This body and chassis are not original to each other the chassis is a Sarte or at least a good copy,.Phil acquired this chassis out of North Carolina and the history of whos and when has yet to be determined,..
The body as purchased from our own Steve "Lippy" way back when by Phil is the old Ernie Duckett Nova funny car Body and the information right here was spoken to me by Ernie Duckett himself,..Yes the body Was from Bobby Woods 1st Nova funny car and then it became the Super Golden Rod Nova funny car,.It is also confirmed by Ernie it is the first of the two Bobby woods Nova funny cars because when Ernie purchased it in 1973 as the Golden Rod Woods 2nd Nova Funny car was reposed and then was auctioned off, the winning bidder later ran the car and Ernie had ran against it,..Also When Ernie bought the Super Golden Rod Nova it still had the original Bobby Woods Don Hardy chassis under it right up until Ernie had chassis builder Cecil Hicks Sema ID #81 built him a newer narrower chassis, the original Hardy chassis quickly disappeared from Hicks shop/sold...Ernie Duckett was a painter and body man out of Hartsville Alabama and did body, fender and paint repair, so when the new chassis by Cecil Hicks was finished Ernie and his shop Cut the former X Woods/X super Golden Rod Nova body right down the middle and narrowed it up, and also shortened it a bit which explains why the front nose hood emblem molding is so small,..so here are the facts and it is confirmed by Ernie himself,. Ernie also adds that the body was taken off the newer and narrower Cecil Hicks chassis later around 1977-79 and a Charger/Omni body was mounted and it then was called "Rolling Thunder" that car was pearl white with about 6 candy stripes, it would be sold to someone and went to the Massachusetts area. Ernies former Nova body was sold and it changed hands two or three times and wound in the hands of Steve"Lippy" Steve Lippoldt and then sold to Phil Elliot ....Still working on the current chassis ID / History.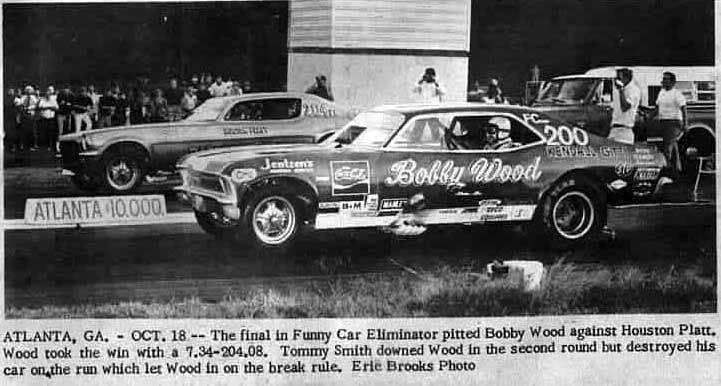 Now as the car sits at its new home with me in Southern Washington State awaiting a full rebuild by me..
More to come as I get you all up to speed.
Vic