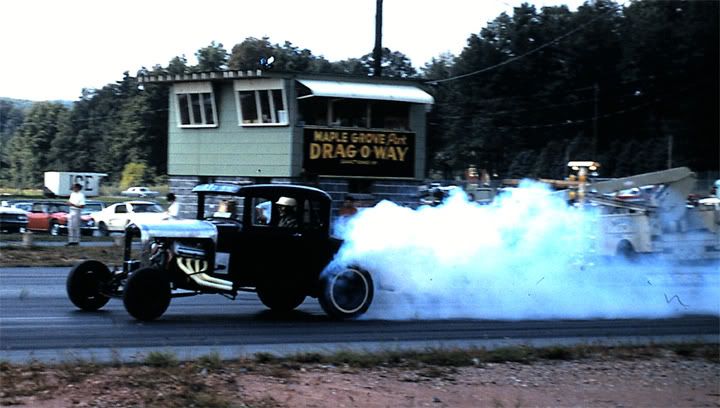 My uncle, my father and I are looking for this car! We want it back! It was campaigned at Maple Grove Pa in the late 60's. Here's what my uncle has to say about it. -
When the coupe left Bienert (our last name) possession (I sold it in 1972 for $650), it had the 354 Chrysler in it with Hilborn injection with no stacks. The transmission it had was a brand-new Muncie close-ratio 4 speed. I think the shifter was Fenton. Rear tires were XS-11 superstock slicks (11 inches wide) on Lincoln wheels. I think the Lincoln wheels were reversed (by us) to gain clearance. The car was bought buy a guy from Hamburg, Pennsylvania. He arrived with a friend and a large Ford box truck to haul away the car. I think he came from a family who grew mushrooms. The coupe's steering box was Crosley and the steering wheel was a black and chrome item from Boscov's department store. The frame was 3-inch diameter steel tubing and the rear axle was solid-mounted and actually became the car's rear crossmember. The axle was secured to the frame by rows of Allen screws. All the shiny and unpainted sheet metal was aluminum that we bought from Morgan trailer. The car's front wheels we made from 1948 Plymouth and early Ford wheels. We drilled all the rivets from both sets of wheels and discarded the wide Ford rims and the Plymouth centers. We then welded the narrow Plymouth rims onto the Ford centers. I think the front tires were Volkswagen 5.50 x 15. The Plymouth rims were only 4'' wide. Alfred drilled all the holes in the front axle. The coupe weighed about 1860lbs. The firewall was made of two pieces of aluminum and had several decals attached.
Frid bought the coupe from a guy he worked with, Charlie Titanic, I think.